Everyone has a cause they support right? Whether it is animals, a natural disaster, cancer, abuse, etc - there is always "something for everyone" so to speak.

Instead of doing an "auction style" type of thing where you post what you'll do and then people bid on it with the highest bidder getting the goods, this is going to be a "buy it now" type deal. What does that mean? People post what they are willing to do and for how many people they are willing to do it. Then, after that many people "buy it now" their post will be marked off limits.

Note: While
charitypledge is for all charitable organizations and needs, this round was started with Japan in mind. For now, the main place to donate is here at Redcross However, you can still donate to other organizations. For ideas, you can find a list here.



If you would like to offer up your work up for "buy it now", read the following.
1. Decide what you want to offer, how many people you'll offer it to and how much you will require as a donation for the said fanwork(s).
2. Copy/Paste the code in the box below into a NEW comment to THIS post below (you can use my comment below as an example).
2. Please only post what you are willing and realistically able to do. The same goes for quantities. Don't say you'll do 10 things if you really can only manage 2.

If you'd like to "buy it now", read the following.
1. Look through all the comments/pages.
2. Decide which one(s) you'd like to "buy it now" and then reply to their comments posting your "buy it now" offer.
3. Please only "buy it now" on things you are actually willing to donate for.

If you've bought something and need to donate/pay, read the following.
1. Choose the charity to which you want to donate from this here or a different one you prefer - just let us know the charity's name, so we can add the suggestion to our list.
2. Make your donation.
3. Send a copy of your receipt of donation to charitypledge@verizon.net (MAKE SURE TO BLACK OUT OR ERASE YOUR NAME/ADDRESS/CREDIT CARD INFO). Once we get your email, we will confirm receipt and inform the person who offered up the item.



DEADLINE: April 3rd, 2010 @ 8:00 PM EST is the deadline for all sign-ups and buying/donating!

After that, we'll open a new Round post.
Also, here's a a mini banner that you can use for pimping purposes! Please PIMP! You MAY direct link to the banner with the link below.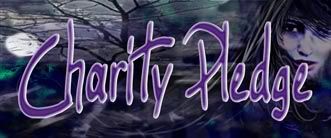 Direct Link:
http://needtakehave.com/las/minis/charitypledge.jpg
Or you can copy/paste this code that will link directly back to this post:
Offer Form:
Got a Question? Ask it here!